The Icecutter's Daughter by Tracie Peterson
Submitted by Adult Dept on Thu, 10/10/2013 - 4:24pm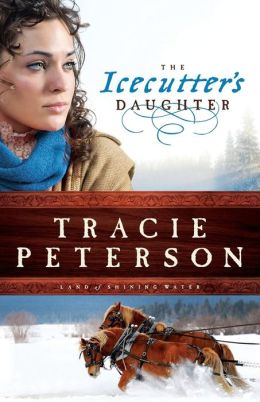 The Icecutter's Daughter by Tracie Peterson
Merrill Krause and her family live in Minnesota in the late 1800s. They are hard working folk of German ancestry who put food on the table by harvesting ice in the very cold winters. When the ice is at least nine inches thick they start the process of harvesting enough ice to fill orders. This has been part of Merrill's life for years in addition to cooking and cleaning for her father and brothers since her mother died. Her cooking is so good that it has become legend in the area.
Rurik Jorgenson lives in Kansas with his family who are farmers. But Rurik has chosen to make furniture and has a real talent for that. His friends Nils and Svea also live there. When they were little the parents of Rurik and Svea arranged the marriage of their two children. So it was known and expected that Rurik and Svea would one day marry. Svea was feminine and loved pretty clothes and being the betrothed to such a handsome man. But he knew they were not a good match. After discussion on this matter the betrothal was dissolved. Soon after that Rurik learned of Uncle Carl's failing health and decided to help him in Minnesota. There he soon met Merrill and her large family and other friends in this friendly small town.
Then Nils and Svea arrived in town to see Rurik. Nils hoped to find work there and Svea hoped to marry Rurik. Actually, she was going to force Rurik to marry her as she told people it was Rurik's responsibility to save her reputation. So much for a peaceful little town. And what about Rurik's attraction to Merrill? If Svea had her say, Rurik would never see Merrill again. What will happen next in this nice town of friends and family? They certainly did not expect the scandal brought to Minnesota from Kansas.
~ Beth