General Washington's Christmas Farewell: A Mount Vernon Homecoming 1783
Submitted by Adult Dept on Mon, 12/23/2013 - 12:46pm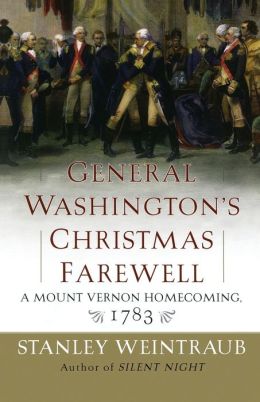 General Washington's Christmas Farewell: A Mount Vernon Homecoming 1783
This is a detailed account taken from diaries and letters of Washington's 1783 journey from New York to Mount Vernon. This would be his first time home since the beginning of the war in 1775.
In late November 1783 Washington received formal notice of the signing of the peace treaty with England. He had a month to accept the transfer of power from the British troops in New York, bid farewell to his troops and resign his commission to Congress, if he hoped to reach Mount Vernon for Christmas. Washington's homeward journey is moving and inspiring. When he said farewell to his troops at Fraunces Tavern in New York City, there were no dry eyes.
This story is about the character of the most important founding father, but also the story of a loving husband, a beloved military leader and a humble and great man.
This is an excellent seasonal read. It will appeal to those interested in the American revolution, George Washington, diplomatic history, military history and colonial history.
~ Carol K.